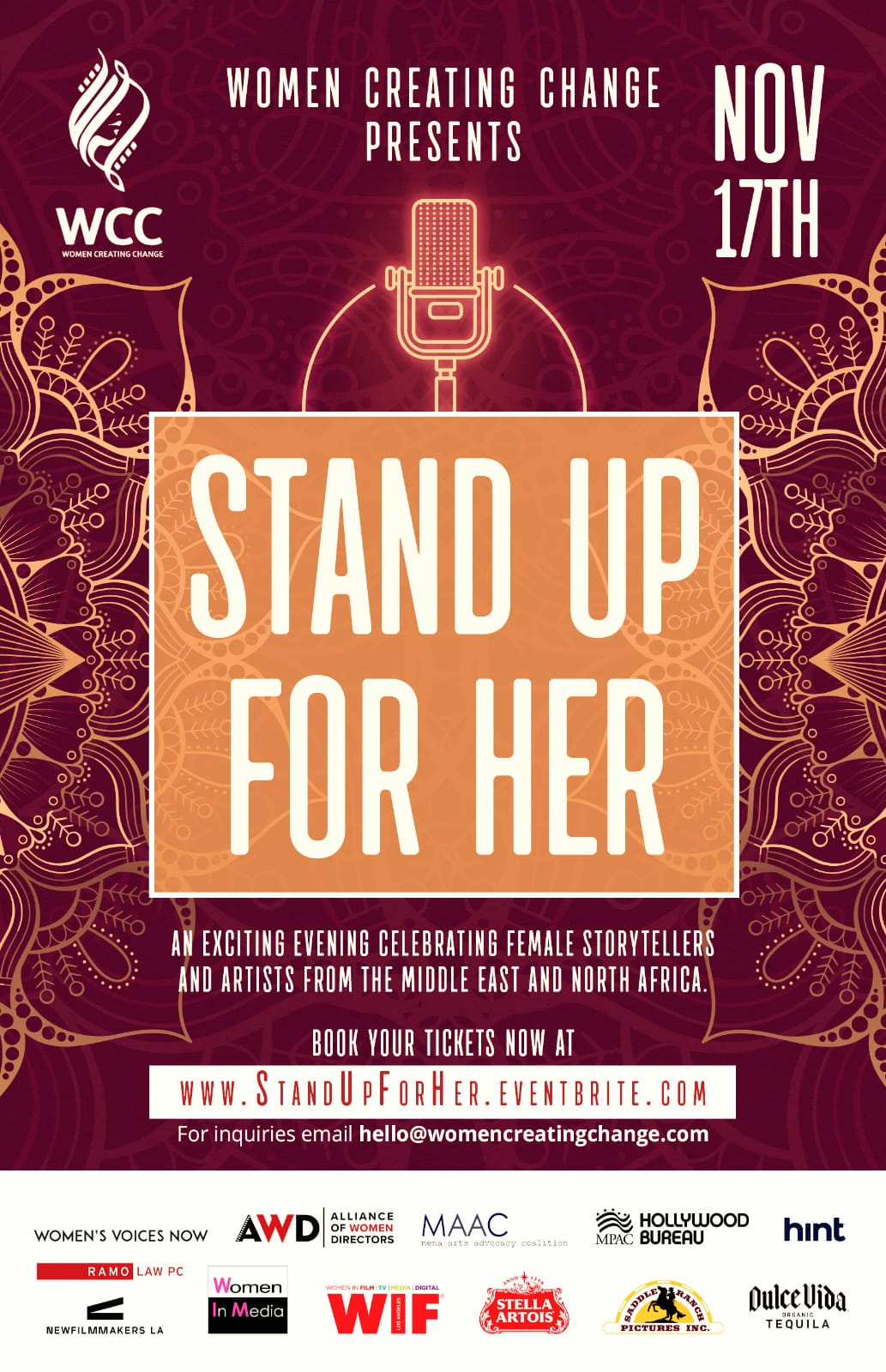 Stand Up 4 Her
Women Creating Change is proud to present "Stand Up 4 Her"
A riveting and thought-provoking evening, celebrating female storytellers from the Middle East and Northern Africa.
We will be featuring Lebanese, Egyptian, Iraqi, Syrian, Iranian, Pakistani, Moroccan, Israeli and Palestinian Standup comedians, poets, musicians and artists, who will share a stage to enlighten and entertain for one special night! We aim to bridge cultural divides through powerful performances, during this memorable evening!
We will commence with a sponsored cocktail hour by Stella Artois and Dulce Vita, as well as scrumptious ethnic appetizers by Chef Oshri Vaknin. You'll enjoy an art exhibit, silent auction, and of course a live show at 7 PM , after which the evening will conclude with a dessert reception by Mamilla Resturant and The Baklava Factory, and networking to the beats of DJ Karina Kay.
**All proceeds from the evening will go towards expending and creating new programs for female filmmakers.
Featured Stand Up comedians:
Crystal Marie Denha, Melissa Shoshahi, Noam Shuster, Nina Kharoufeh, Natalie Marciano, Zain Shami and Mona Shaikh.
Featured poets:
Shelly Skandrani, Salma El- Wardany, and Lee Broda.
Featured Storyteller:
Featured Fine Artists:
Stand Up For Her will be exhibiting the original art work of Fadia Afashe(Syria), Pooneh Rafsha (Iran), Tasneem Rahman (Pakistan), and Ilanit Maghen (Israel), curated by Lauren Annette Schoth. Through the unique expressions of fine and contemporary art, stories are shared and voices are heard. In honor of supporting Middle Eastern female artists, proceeds from the silent auction and the evenig as a whole will directly benefit WCC's mission and programs.
Music performance by Inbar Starr.
The evening will be hosted by Reem Edan and Gal Macadar.
Please join us on November 17th.
VIP tickets:
Arrive at 5:30pm for Red Carpet fun, complimentary hors d'oeuvres by our Israeli Chef Oshri Vaknin , special cocktails and wine tasting, VIP gift bags (Converse shoes and many surprises), an early access to our silence auction and incredible art exhibition. Including the dessert reception and after party.
General Admission tickets:
Arrive at 6:30pm to enjoy the art exhibition and complimentary cocktails and appetizers by THE BOULEVARD before the show. Including the dessert reception and after party.
The event is fiscally sponsored by Women Voices Now and in parternship with Women In Film, Alliance Of Women Directors, Newfilmmakers LA, Film Fatals, and Women In Media.
About Women Creating Change:
WCC is a community of female-identifying artists and filmmakers from the Greater Middle East who seek to empower, inspire change, and bridge cultural and religious divides, by championing creative and inclusive collaborations through storytelling. WCC is dedicated to building a vibrant space for honest, substantive dialogue around today's most pressing issues.
Parking: Convenient parking is available on Broadway st or Colorado st at the mall structure. Other lots available on 2nd St. Please take the elevator to the third floor to enter the venue.
For questions please conatct us at: Hello@womencreatingchange.com
Thank you to our sponsors : Saddle Ranch Pictures, Ramo Law PC, Tunnel, and Converse. And to Tal Orion Events for producing this beauitful evening.